THE LEGEND LIVES ON...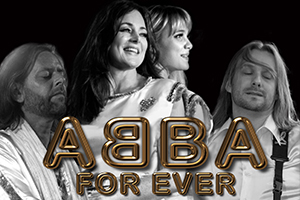 The seventies have been back in fashion for several years, and nostalgia for the music, style and atmosphere of this legendary decade affects both those who lived through it and those who can only access it through the memories of others.

The Swedish band ABBA was founded in 1970 and has sold over 375 million records around the world. Their incredible success has continued and their music went through a real revival in 1999 when the musical "Mamma Mia" was first launched. Over 50 million visitors have enjoyed the show that has toured 40 countries…

ABBA's universe never comes out of fashion and still brings happiness to new audiences as it did 30 years ago. Their world-famous songs, appealing to both young and old, give ABBA their place in the world hall of fame.

A number of cover and tribute bands have entered the stage over the past years to give audiences a chance to relive for a night the brightest moments of ABBA's decade.

Cécile, Krystal, Daniel and Sebastian have toured Europe with their acclaimed tribute band "ABBA For Ever" – receiving ever more positive reviews.
In 2007, these true professionals in their field decided to create the tribute band ABBA FOR EVER to share their joint passion for the band ABBA.

On stage, the band performs in wonderfully kitsch outfits that correspond to the mood and atmosphere the 70s while singing with surprising precision and style – the illusion is nearly perfect.
During the show, you will relive, or discover, ABBA's greatest hits such as Gimme, gimme, gimme, Dancing queen, Mamma Mia, Super Trouper and many more…
In short, a great possibility to relive an extraordinary decade listening to 75 minutes of cult songs. Abba For Ever will give your party or event an unforgettable atmosphere with an incredible reproduction of both scenery and music. .

Our agency has a long experience in organising hire of lookalikes or tribute bands in France and abroad since many years. It is our experience and knowledge about this field that leads us to recommend Abba For Ever as your ABBA tribute band.

Enjoy your visit on ABBA FOR EVER's official site!