SHARED PASSION FOR A MYTHICAL BAND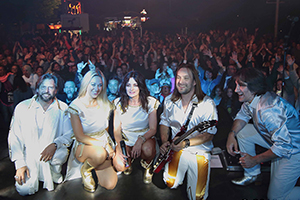 Cécile, Krystel, Daniel, Sebastian and Yann - three musicians and two singers - make up the band ABBA FOR EVER

Each band member has a long experience of shows and events all around France yet it was when they met a few years ago that they decide to work together with their two shared passions: music and ABBA.

Their shared passions and common wish to share the best songs of this mythical group led to the creation of ABBA FOR EVER in 2007.
At the start of 2008, the band started performing at their first gala shows, first in their own region and then all around France and Europe.

During their show, you can relive or, for others, discover all the greatest hits of ABBA. The show allows fans to experience all the emotions and nostalgia of those magical years…

A selection of the places where Abba For Ever have performed in France are: Rosny-sous-bois, Bourg en Bresse, Le stade de France, le Club Méditerranée, Charleville Méxières, Lyon, Ajaccio, Carcassone, Strasbourg, Lourdes and many more…
But they have also performed abroad in for example Lebanon, Belgium, Switzerland, Morocco, Spain, and Greece etc.

As well as on TV on French national TV channels FR3 and TF1.